International
University Leadership Colloquium

Organized by EDS Asia-Pacific in Penang, Malaysia
7 - 11 November 2009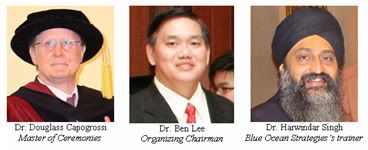 EDS Asia-Pacific presents the first International University Leadership Colloquium during 7 to 11 November 2009 at B-Suite Hotel, Penang, Malaysia. This Asia Colloquium provides an international platform for communication and networking among university and college leaders. Unite with us in developing alliances, building cooperation and joint ventures, making global higher education more affordable. Join your colleagues in a memorable experience.
Attendance limited to 60 university leaders.
Please submit your application early.
Spouses are Welcome

~Promote the attributes and character of your university or college
Each participant will have the opportunity to give a 15-30 minute presentation about their university, its mission, goals and projects, and opportunities for collaboration.

~Accelerate the global advancement of your institution
The Colloquium will provide opportunities to improve educational quality, advance teaching and learning pedagogy, strengthen faculty development, expand curriculum offerings, and transfer knowledge and technology worldwide.

~Establish alliances with other universities and colleges
The Colloquium provides a prime opportunity to dialogue with other college leaders, conceive cooperative projects, dual degree awards, shared faculty in-service, and establishment of preliminary memorandums agreement during the event.

~Acknowledge university leaders for exemplary leadership and lifelong achievement
The Colloquium will permit us an opportunity to honor the lifelong achievements of exemplary university leaders. Advance your standing among college and university leaders worldwide through participation in the Asia Colloquium.




Application Form >>> Click Here

Background of EDS Team
EDS was founded by Dr. Ben Lee in 2002 and has rapidly become the premier training and executive development agency in the Asia-Pacific Region, satisfying a rapidly growing demand for skills development training among academia, business leaders, professionals, engineers, and executives. EDS Team is highly decorated for quality achievements in cross border executive training and development.
Master of Ceremonies
Dr Douglass L. Capogrossi, Chairman of EDS International Advisory Council


Dr. Capogrossi earned his Ph.D. in Adult and Continuing Education from Cornell University, where he completed an extensive dissertation investigating the effectiveness of the American education system. He also holds a Master's in Curriculum and Instruction, and Bachelor's in Business Management from Cornell University. Dr. Capogrossi is a world leader in advancing cross-border alliances and an expert in development of mentored distance learning programs. His scholarly writings have informed his colleagues in the assurance of academic excellence among international and nontraditional colleges and universities.

Colloquium Advisor
Professor Dr. Nelson T. Binag is the Advisor for the International University Leadership Colloquium. He is also the President Emeritus of Sultan Kudarat State Polytechnic College in Tacurong City, Philippines.

Dr. Binag was the former Vice-President of the Accrediting Agency of Chartered Colleges and Universities in the Philippines (AACCUP), Inc., and he has been with the AACCUP Board for several years and was a forerunner in introducing innovations in AACCUP operations/policies.
Colloquium Program Agenda

Friday, 6 November
Arrival of university and college leaders, presidents, chancellors, rectors, deans

Saturday, 7 November
09.00 am - Opening Ceremony
10.00 am - Group Photo session
10.15 am - Session begin - Each university will have 30 minute presentation
05.00 pm - Session end

06.00 pm - EDS Welcoming Dinner and Fellowship Night

Sunday, 8 November
09.00 am to 05pm: Networking Day - participants network among themselves and sign MOU to establish international linkages.

07.00pm: Shopping at Queensbay Mall, Penang largest shopping mall. Transport provided

Monday, 9 November
09.00 am to 5:00 pm: Day One of 2-day training on Building a World Class Higher Learning Institution via Blue Ocean Strategies by Dr. Harwindar Singh.

Tuesday, 10 November
09.00 am to 05pm: Day Two of training on Building a World Class Higher Learning Institution via Blue Ocean Strategies.

06.00 pm: VIP Round Table Dinner at 5 Star Hotel
Award ceremony honoring distinguished education leaders with lifetime achievement and exemplary leadership awards.

Wednesday, 11 November
08.00 am to 4:00 pm: Optional trip to Penang Heritage City tour and visit to Ferringhi Beach

Thursday, 12 November
Departure for participants. Transport provide from B-Suite Hotel to Penang International Airport



COLLOQUIUM FEES
The Colloquium fees is US$1,200 per participant, which covers:

~ 6 days and 5 nights hotel accommodation at B-Suite Hotel, single occupancy
~ Breakfast and lunch provided during the seminar
~ Transport to and from Penang Airport provided for participants
~ Welcoming dinner and fellowship night
~ VIP round table dinner and award ceremony at 5 star hotel
~ 1 day Penang Heritage City Tour
~ Lectures guide, training materials, and stationery
~ Certificate of Appreciation,
~ Group Photo
Register 2 – Get 1 Free
If your institution registers 2 participants for the Colloquium, and pays fees in full by 16 October 2009, you will be awarded 1 additional enrollment free of charge.

Spouses are Welcome
Spouses are welcome to accompany you to Penang. Participants will need to submit an additional USD380 for spouse, covering the following:
· Airport pick up and drop off
· Welcoming dinner
· Breakfast and lunch provided
· Transport for shopping trip to Queenbay Mall
· Attendance at VIP round table dinner and award ceremony
· Penang Heritage City tour

TESTIMONIAL FROM:
- University of Nueava Cacers, Philippines
"While in Penang, and upon authorization from UNC Administration, Dr. Maniquiz had the opportunity on initiating talks regarding collaboration and international linkages between UNC and other institution abroad. Possible areas of collaboration were explored along joint research projects, faculty and students exchange, and visiting professor arrangements."

- Ahmad Dahlan University, Indonesia
"It is worth of expanding our competencies as well as establishing institution's networking. It is a good model of presentations - professional presenters by EDS faculty, quality learning materials and participative technique. The venue is convenience and conducive."

- University of Science and Technology, Bangladesh
"Regional cooperation among institutions offering research facilities would minimize the cost and facilitate research in less developed countries and the least. By all calculation the workshop was formidable and you with your colleagues deserve our heartiest congratulations."


-
Akamai University, Hawaii, USA
"Cross border coalitions have become the way of the future, an absolute necessity in the emerging paradigm of knowledge transfer. Akamai continues to encourage its affiliated colleges and universities to address strategies for cooperation, networking and leveraging of infrastructure and human resources with affiliations across international borders."

-
Palawan State University, Philippines
"The PSU and EDS collaboration provides new opportunities for faculty development, increased curriculum offerings, dual degree awards, and the transfer of knowledge and technology. The collaboration further permits PSU and EDS to leverage available infrastructure and human resources through cooperation and joint venture, making the provision of higher education more affordable globally."
Penang is world recognized international tourist destination and shopping paradise, listed by UNESCO as a World Heritage Site.
For more information on Penang UNESCO Heritage Tourism Promotion, please visit http://www.youtube.com/watch?v=xPMtoRbyL1I&feature=related and http://www.youtube.com/watch?v=PlrCswUVJzU&feature=related




EDS Head Office






"The illiterate of the future are not those who can't read or write, but those who cannot learn, unlearn and relearn."
-Alvin Tofler